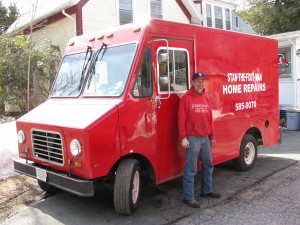 Highly recommend Stan The Fixit Man. We live in Florence, MA and have always gotten the best service and rates from Stan The Fixit Man. They have been helping us for years and actually have a key to our home now. Stan makes sure he comes up with the most cost-effective solution. And always looking to repair rather than spend money buying new items/parts. We feel very lucky that we have Stan and his team in the neighborhood. We highly recommend him.
Lisa and Ali
Stan has been helping me since I moved to the neighborhood about 15 years ago and has never disappointed. He is super responsive, shares his knowledge, and his rates are very reasonable. He has even helped in emergencies during his off hours, like liberating my car from the garage when the opener broke and the door would not budge. Over the years, he has become a friend and is a joy to do business with.
Amy H. via yelp.com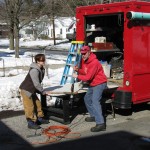 Identified and repaired leak in roof that was allowing water to travel into upstairs bathroom. Stan has also fixed our locks on doors and made other small repairs in the house. Stan is a real pro. He identified a leak into our upstairs bathroom in a matter of minutes. I think it would have taken anyone else hours to do it and they probably would have been ripping up walls. He's incredibly conscientious, never over-charges, very honest. We've had Stan do a number of things in the house in the past and each time it costs less than we thought it would and the work is perfect. He has even fixed things that other handymen botched. Oh, and he's really fast. Nancy Rapoport
Stan was a pleasure to deal with. He was accessible by phone when i had questions, additional tasks etc. He is thorough & seems to have a good knowledge of many areas relating to home repair issues. I would definitely recommend him for this type of job.
Stan and his merry band fixed a broken sliding glass door handle (cleaning and lubricating the tracks while they were at it), a leaky toilet, regrouted/caulked a tub, put up a coat rack/mirror unit, and more. They were fast and quiet and did very good work. When the initial toilet fix didn't work, they came back until it was right. The "can-do" spirit of the crew was a nice suprise; Stan and his assistants really seemed to enjoy figuring out how to fix things in the best possible way.
Stan is very prompt, friendly and extremely competent. He made me feel safer in my home by installing dead bolts, and fixing a pane of glass. His prices are quite reasonable, and he finished the work in just a few hours. I will recommend Stan to all of my friends, and colleagues.
Tocci via Yellow Pages online
Having had my share of tradespeople at the house doing various projects, Stan and his crew are the people I now go to first. Stan ALWAYS returns my calls promptly, and when he tells you he'll be there, he is. He assesses carefully the job, and if he is unable to do it, he'll recommend someone who can. The job estimates always seem very reasonable. He is an incredibly quiet worker other than the noise from his tools. He doesn't work with a blaring radio that blasts us to near insanity. Unlike many tradespeople, he cleans up after his work. His quirky sense of humor, intelligent solutions, and commitment to his work make him and his crew my #1 choice in home repair.
Phyllis via Yellow Pages online
We have called upon Stan and his crew several times and have been extremely pleased with the work that was done. What we value almost more than the actual work is the fact that he calls back when you leave a message, he arrives when he says he will, he and all his workers are pleasant and well spoken, and he is nice to our dogs.
What more could one want?
Well, two days before christmas at 6:00 in the evening, when no plumber could or would come out to fix a punctured water pipe, we were at our wits' end when we thought of Stan. After trying for hours to get someone to come help us, he was here within the hour, did a temporary fix, said he would call the day after Christmas, which he did, and came back and did the repair.
I wouldn't even bother to call anyone else. Call Stan.
Doryne Pederzani via Yellow Pages online
Stan and his crew did a lot of work for us this fall. The work was skillfully done and completed on a timely basis. The rates are reasonable (different based on the number of people at work) and the value was very high.
Tasks included electrical (installing an indoor/outdoor ceiling fan), light and heavy carpentry and repairs, locksmithing, sealing a sink, reglazing windows, and insulating. The versatility was a huge help. We were thoroughly satisfied and would both use the service again and recommend it.
Stan was very clear about the services, rates, and hours and what was within the scope of the company. He was also straightforward about recommending other experts for particular tasks.
WesternMash via Yellow Pages online
He's wonderful. Cheerful and competent. Once he's committed, he comes when he says and does what he set out to do. He sets high standards for how things should be. Many things in my house are now tight and sturdy, thanks to him.
Matilda via Yellow Pages online
Stan fixed a towel bar that had come out of the wall; installed a heavy six-pronged wall coat rack; found the source of a leak in the bathroom and was able to fix it without tearing down any walls; fixed a kitchen faucet with a loose base. In fact, he noticed the faucet problem and offered to fix it before it created a leak.
Stan responded quickly to my call and suggested a time to do the work. I couldn't be home on that day but he called again the following week and came immediately. I appreciated his politeness, responsiveness, and willingness to make his schedule fit mine.
Stan and Henry were efficient and solved several problems that might otherwise have required separate calls to carpenters or plumbers.
I have a lot of confidence in Stan based on his demonstrated competence in diagnosing and handling a wide variety of problems. I will certainly call on him again. Barbara via AngiesList online
Map of satisfied customers for 2012

View 2012 Clients in a larger map